Radical Rick Book Cover Sketch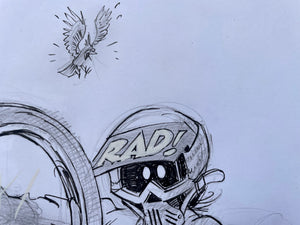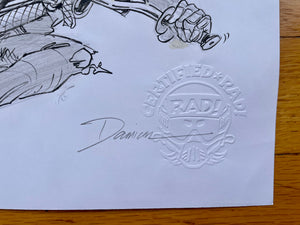 The cat's out of the bag. If you haven't heard, the long-awaited Radical Rick, the Complete Episodes book is finally off to the printers, and this rad bit of action gives you a pretty good idea of what's happening on the cover…This hand-drawn sketch features RADICAL RICK at the pinnacle of an aerial attack, and is a preview of the final image that you'll eventually see when the book drops in mid-November. "Finding the right image is critical. I always want to make sure I have the vibe right before I commit to painting," says Radical Rick artist and creator Damian Fulton. Clearly, his study shows he caught that vibe...and killed it!
It's an explosive image, with tons of fun detail drawn in pencil and ink. Truly a stunner on 8 1/2" x 11" bond paper. In really nice shape too!
Crimped with the "Certified Radical" seal and hand-signed by Damian, it's just plain RAD!