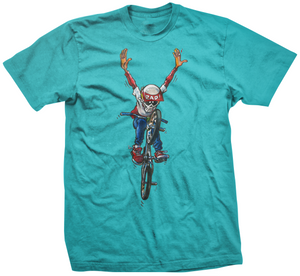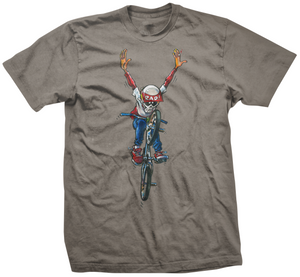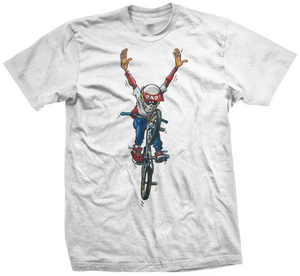 What has 2 wheels, no hands, an overproductive Rad-Gland, and flies?
None other than the new Radical Rick NO HANDER t-shirt. Smack dap on your chest soars the original extreme sports cartoon legend, Radical Rick, airing it out and extending a V for victory sign for all to see. 
But is it legit? Heck yeah, it's printed in vivid full color from a painting created by Damian Fulton in the same traditional technique we remember from back in the day in the pages of BMX PLUS! magazine. All the detail is there, from the sun kicks on the chrome to the classic RAD on his old school visor to the tiniest of blood drops. It's our newest creation and we couldn't be prouder.
Available in Tahiti Blue, Warm Grey, and Classic White. And as always, it's guaranteed 100% rad and 100% soft cotton! Limited quantities available. Own it and you can scream along with the Rad Squad, "Look ma, NO HANDS!"