"RADICAL RICK AND THE RAD SQUAD" ORIGINAL SKETCH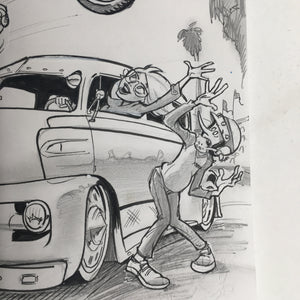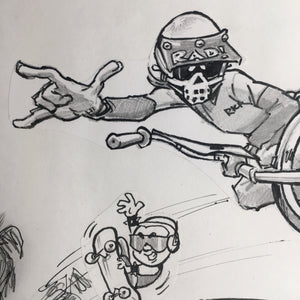 This is a really rare piece with tons of action and a super rad RADICAL RICK smack dab in the middle! This complex study was drawn to plan for an original painting created for a CARtoons magazine cover featuring the whole RAD SQUAD (See the last picture). It's rare because there are only a few pieces ever made with ALL the Rad Squad, Rick, MX Mug, Bonnie Brainstorm, and Spike Speedwrench. 
It's an EPIC IMAGE, with lots of fun detail drawn in pencil and ink cut and pasted together to form the bones of what would become the raddest cover ever created for the magazine. It's a classic on 8 1/2" x 11" bond paper. Plus it's in nice shape, there is a little dab of white-out to help hide a visible ink dot on the upper left edge.  You'll see it in the pictures but it'll probable get covered by the fame.  
Crimped with "Certified Radical" seal and hand signed by Damian, so you can trust it's legit. This will make a great addition to any serious collector's quiver of fine art!