"SAINT RICK THE RAD" ORIGINAL VINTAGE PAINTING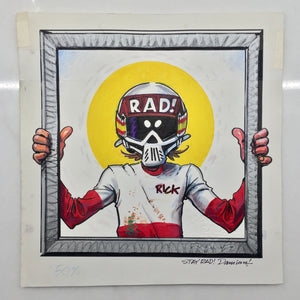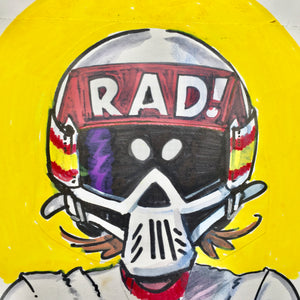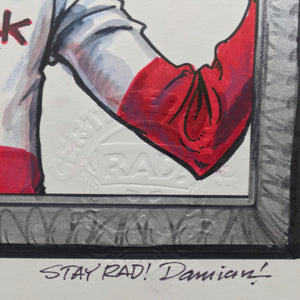 The title says it all. "SAINT RICK THE RAD" is a beautiful piece of original vintage art recently watercolored and cleaned up after sitting in a folder neglected. It's a gorgeous image of Radical Rick, boldly staring right at the viewer with his classic rad attitude, or as we like to call it, radditude.
This piece is super interesting. In the pictures, you'll note a "50%" marked in blue pencil in the lower-left corner, a note to the printer no doubt, left there today on purpose as a nod to where it came from. There are visible pieces of card stock glued together to make up the composition, kind of cool to see the process! Of course for its age, the edges are a little dog-eared, but still for a piece this old, it's in beautiful shape (see photos) and presents nicely! Originally illustrated back in 1990 as part of the care and instruction sheet accompanying Radical Rick artwork, which will be included in this purchase. Approx. 8.5" x 9" hand created on card stock, signed by Damian and embossed with the "Certified Radical" stamp.  Epic for sure!