"SUNNY CALIFORNIA" vintage mixed media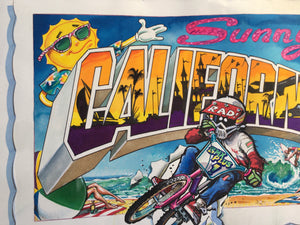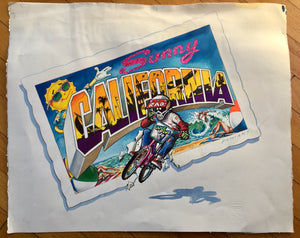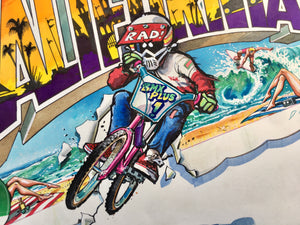 Super rare, large-sized, originally drawn back in the early 80s artwork for a BMX PLUS! sweepstakes. Painted in vivid color by Radical Rick creator Damian Fulton, it's handcrafted on approx 16" x 24" watercolor paper, and a significant piece for any collector! The edges are a little dog-eared and there's some slight yellowing from age but the main image has a new rendering of RADICAL RICK and is retouched to look really fresh and colorful. There is nothing like this in all the Radical Rick art created by Damian. It's really a rare and epic piece of BMX history.
Hand stamped with the "Certifed Radical" seal and signed by Damian.